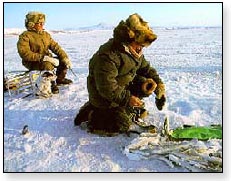 In an age when adventuresome travel is becoming more popular than ever before, Russia is very rapidly becoming a favored destination for those who want to explore the awe-inspiring landscapes of the far north. All across its length, Russia's territory reaches up toward the pole, giving it a broad belt of land laying within the arctic circle. In northeastern Siberia and Kamchatka in particular is found some of the richest and most beautiful terrain in the country--mountains, lakes, and rivers, all abundant in wildlife.
Visitors to these regions gain the opportunity to see a much different Russia, a country more evocative of Jack London than of Catherine the Great. With the dissolution of the Soviet Union, travel to remote areas has become easier than ever before. In the last five years alone, the northeastern part of the country in particular has gained international renown for its excellent fishing, hunting, and expedition travel.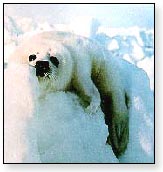 The means of travel themselves are a central part of the pleasure of any visit, starting with the Great Trans-Siberian Railway. Traditional horse-drawn sleighs remain a common mode of transport in many parts of Siberia and the Far East, and in northern towns dog sled races provide the backdrop for great festivities. There are plenty of choices for those who want to escape civilization altogether and focus on the beauty of the land itself. More vigorous travellers can go trekking through nature preserves ruled by bears and moose, or hike the slopes of active volcanoes. Those who prefer their adventure to be a bit more leisurely can enjoy cruising to the north pole on a mighty ice-breaker leaving from the port city of Murmansk. Whether you finally make that great journey to the pole or simply spend a relaxing week casting for salmon, a visit to the Great Russian North will be an unforgettable experience.
---
---

Copyright (c) 1996-2006 interKnowledge Corp. All rights reserved.