Entertainment, Dining, and Shopping in Turkey...

Entertainment

Nighttime activities range from the classical performing arts to traditional belly dancing and folk singing and dancing.

The Istanbul International Art and Culture Festival, held June and July, features film, theater, classical music, dance and jazz. The Istanbul Film Festival in April draws film connoisseurs from all over.

Food & Drink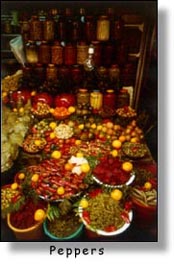 Seafood is a staple; yogurt accompanies many courses. Among the specialties: kebab, meats that have been boiled, baked or stewed and then cooked with vegetables (only when kebab is on a skewer is it called sish kebab). Dolma (which means "stuffed") may be filled with meat or with a rice mix. Meat dolma are served with yogurt sauce as a main course. Any vegetable can be used in dolma, including zucchini, eggplant and grape or cabbage leaves. Green pepper dolma with rice stuffing are the queen of dolma. Borek are pastries stuffed with cheese, spinach, fish or meat. Raki, an anise-flavored liqueur, is the national drink. Strong Turkish coffee is served after meals.
Shopping
Shopping is so rewarding that many visitors return just for that reason. Authentic handwoven carpets and kilims (primitive rugs) made of wool or silk are great bargains. In addition to clothing and fashion accessories, traditional Turkish handcrafts are popular. The latter include vases, plates, copper and brassware, gold and silver jewelry, leather goods, samovars and hookahs, and meerschaum items.
Istanbul's fabulous Grand Bazaar is a maze of covered streets housing 4,000 shops, cafes and restaurants. Other shopping areas are: Arasta Bazaar, Spice Bazaar, Atakoy Galleria and AK Center.
Bargaining is the norm in bazaars and in some resort areas. Antiques more than 100 years old cannot be taken out of the country. Most shops close for lunch.