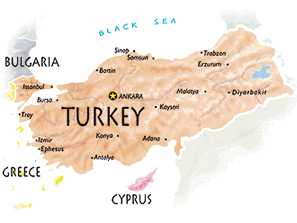 With 10 millennia of history, Turkey is where East and West meet. Great civilizations- including the Hittite, Roman, Byzantine and Ottoman- have left their mark.

Points of Interest
Area: 300,947 square miles (nearly twice the size of California). Population: 63,745,000; (Istanbul, 9,307,000; Ankara, 3,642,000;Izmir, 3,210,000). Language: Turkish.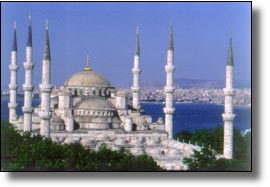 Highlights
Istanbul sprawls over the hills on both sides of the Bosporus where Europe and Asia meet. More than 3,000 years old, the city guards the relics of the Byzantine and Ottoman empires in its museums, ancient churches, palaces, mosques and bazaars. Opera, theater, ballet and art exhibitions take place all year.
Ankara, the capital, is home to universities and gardens. Ankara Castle and the Mausoleum of Mustafa Kemal Ataturk, founder of modern Turkey, are also here.
Izmir, the trade, commercial and cultural center of the Aegean coast, has one of the most beautiful natural harbors on the Mediterranean. This modern city with luxury hotels and palm-lined avenues is home to Kadifekale (the Velvet Castle), built by Alexander the Great.
Ephesus is among the world's richest archaeological and historical sites. A walk along the colonnaded Arcadian Way leads to such ancient treasures as the tremendous amphitheater, where Paul addressed the Ephesians; the restored Library of Celsus; and the magnificent temple to Artemis- one of the Seven Wonders of the Ancient World.
Pamukkale, which literally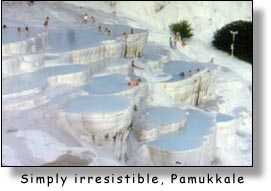 means "cotton castle," is a geological formation of stalactite basins and terraced pools filled with thermal waters. Travelers can soak in the mineral-rich water surrounded by sunken Roman columns. Nearby is Hierapolis, commissioned in 190 B.C. by Eumenes II of Pergamum.
Cappadocia is a region famous for carpet weaving, but best known for a biblical heritage reflected in a variety of ornate churches and ancient sites built underground. Cone-shaped stone formations, the result of time and erosion, housed ancient Christians who carved out underground homes to hide from invaders.
The Turquoise Coast and Turkish Riviera are popular names for the Mediterranean coast. Antalya is one of the country's premier resorts, famous for its restored old city.
The Lycian Coast, west of Antalya, is a national preserve, dominated by the Taurus mountains which slope gradually into the sea. Kemer is a resort-marina built into the mountains. Southwest from here is Demre, birthplace of St. Nicholas.