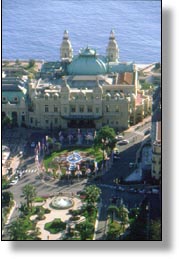 Attractions
Musée Océanographique and Aquarium. The rarest fish in the seven seas are exhibited in 90 tanks in this grand tower, as well as skeletons of whales, sea lions and other findings from the Antarctic exploration of Prince Albert I, who founded the museum in 1910.
Napoleonic Museum. Houses memorabilia from the Napoleonic period collected by Prince Louis II, grandfather of Prince Rainier. Of note are coins minted by the princes of Monaco since 1640.
National Museum. Designed by architect Charles Garnier, its doll and automation collections date from the 17th century. The rose garden is a tranquil oasis at any time of year.
Something Special
The principality has introduced Le Club Diamant Rouge. The $55 fee entitles members to complimentary room upgrades, breakfasts, fresh fruit and flowers at participating hotels; exclusive offers from the finest restaurants; museum admission; shopping discounts at more than 85 establishments; even a Nice airport transfer by helicopter. Club members may also use all facilities of the new Thalassotherapy Centre. For more information, call the tourist office.
The "Monaco Prefers Visa" program offers promotional rates with Monaco's major hotels. Call the tourist office for more information.