Entertainment, Dining, and Shopping in Monaco...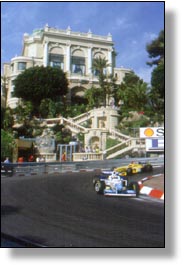 Entertainment
Monaco bustles year-round with operas, concerts and ballets at the Salle Garnier opera house. The top floor show is Le Folie Russe at the Loews Monte Carlo.
The famous Monte Carlo Grand Prix Formula One auto race takes place on Ascension weekend in May.
Food & Drink
There are many Michelin-starred restaurants to experience in Monaco.
Monégasque cooking is a unique blend of Mediterranean influences. Barbagiuan is a type of appetizer filled with rice and spinach. Fougasse pastry is flavored with orange flower water, almonds and aniseed. Socca, pancakes made from chick pea flour, can be found in outdoor markets.
Stocafi is a savory main dish which features dried codfish simmered in tomatoes and Provençal herbs.
Shopping
Specialties include ceramics, crystal, china, perfume, candied fruits and chocolates.
The Place du Casino, the Avenue des Beaux-Arts and the Métropole Shopping Center are lined with boutiques of top couturiers. World-renowned jewelers, luxury shops, antiques dealers and decorators display their wares in Casino Square and its neighboring thoroughfares. On the Boulevard des Moulins, you will find less expensive, high-quality goods.
The rue Grimaldi and the rue Caroline in the Condamine are also favorite shopping areas. Shops in the pedestrian alleyways of the Rock specialize in local souvenirs.
Visitors are exempt from the value-added tax on luxury items.