Entertainment, Dining, and Shopping in Cyprus...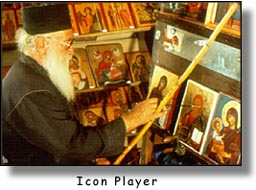 Entertainment
Tavernas and nightclubs offer bouzouki music and folk dancing. Most of the large hotels have dance floors; some also have discos.
Food & Drink
The traditional meze (appetizers) is usually some of everything that is available that day in the restaurant - as many as 30 dishes, starting with soup and salad; then such traditional hot dishes as haloumi, mousaka, afelia, stifado, souvlaki, sieftalia and calamari; ending with sweets. Good but inexpensive wines accompany this lingering repast, and as a finale, try a local brandy with a cup of Cypriot coffee.

Shopping
Stores generally are open from 8 a.m. to 1 p.m. and 2:30 to 5:30 p.m., except Wednesday and Saturday when they are open only in the morning. In the summer, the afternoon hours are 4 to 7.
Specialties include handmade Lefkaritika lace, silver and copperware, shoes and leather goods, and pottery.