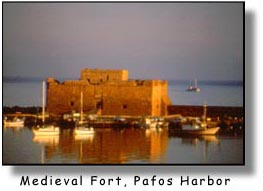 Attractions
Cyprus Archaeological Museum, Lefkosia. Cypriot antiquities and art treasures from the Neolithic Age to the early Byzantine period.
Byzantine Museum and Art Gallery, Lefkosia. Largest collection of 9th- through 18th-century icons on the island.
Kolossi Castle, Lemesos. Medieval military architecture.
St. Lazarus Church, Larnaka. One of the finest examples of Byzantine architecture, built in the 9th century and restored in the 17th century.
Mosaics of Pafos, Kato Pafos. The 3rd-century mosaic floors, portraying scenes from mythology, are considered the finest in the eastern Mediterranean.
Kykko Monastery, Troodos mountains. The country's most famous monastery was founded in 1100 and dedicated to the Virgin Mary.
Assinou Church, Troodos mountains. Frescoes of the 12th century and later periods are the finest Byzantine murals on the island.
Panayia Chrysopolitissa Church, Pafos. Built in the 13th century; contains St. Paul's Pillar.
Kourion, Lemesos. The site of an important city-kingdom, with a magnificent Greco-Roman amphitheater built in the 2nd century B.C.
Something Special
A free two-hour guided walking tour, which highlights the age-old character of Lefkosia, starts from the tourist office every Thursday morning. A free bus-and-walking tour of the Kaimakli area, one of LefkosiaÕs oldest suburbs, is available every Monday.