---
Resting on an inland plain, with the Andes glimmering in the distance, Santiago, the capital of Chile, is the fifth largest city in South America. Santiago is a city that seems destined for growth. The Mapuche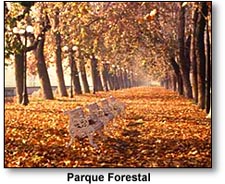 destroyed it in 1541, only six months after Pedro de Valdivia founded it, but soon the Spanish were back and building it up again. Today, it is one of the most modern cities on the continent, home to nearly 5 million inhabitants--over a third of all Chileans. The city is one of the largest in South America and Chile's center of commerce.

Santiago is also the central point of a region filled with attractive sites and activities. Only 60 km away are the main South American ski centers, and the beautiful beaches of the Pacific are only an hour's drive to the northwest. Just south of Santiago lie the rich and beautiful vineyards of the Maipo Valley, one of the world's most esteemed wine producing regions.

The city is bisected by the Rio Mapocho, which gently weaves through from East to West, before descending to the flood plain below. The Mapocho marks the northern border of the city center, which is defined on the west and south by the Via Norte Sur and the Avenida Libertador Bernardo O'Higgins (known to Santiagans as the Alameda). Within this area can be found all the major museums, monuments, and architectural sights the city offers.

The very heart of Santiago is the Plaza de Armas, which lies along the Alameda about five blocks south of the river. The city's European heritage is evident in the Parque Forestal, designed by a French landscaper on the model of Parisian parks. Walkers pass down tree-lined paths along the Mapocho, past small squares and the Museo de Bellas Artes. The Mercado Central is of British design, with wrought-iron ceiling parts that were imported from England in the mid 19th century. Today the market sells a wide variety of fresh, exotic produce.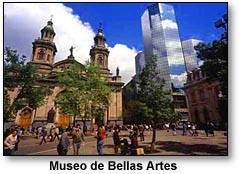 Across the river, the Bellavista neighborhood is home to many restaurants and cafes. The Parque Metropolitano is Santiago's playground, with walking trails, picnic areas, and a zoo. For stunning views of the city, visitors should head to the top of Cerro San Crist˛bal, accessible by bus, funicular, or by a vigorous hike. Also in the Bellavista area is La Chascona, the house designed by Nobel-Prize-winning poet Pablo Neruda -whose work recently gained popularity in the film "Il Postino".
---
Copyright (c) 1998 - 2010 interKnowledge Corp. All rights reserved.