---
Plaza de Armas -Main Plaza
Plaza de Armas is Santiago's attractive city center. Setting off the plaza are various historic buildings, including the Cathedral, the Arch Bishop's Palace, City Hall, the Central Post Office, and the National History Museum.


San Cristobal Hill
The summit of this hill offers spectacular views of the city, and it can be reached via a funicular railway. Up top is giant statue of the Virgin Mary, a zoo, and a restaurant.

Santa Lucia Hill
Beautiful Gardens and promenades.

Palace of Fine Arts
The palace features a collection of European and Chilean art and special shows and exhibitions.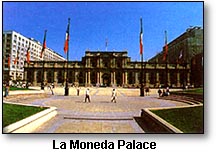 Civic Center and Palacio de Moneda
This neoclassical building serves as the President's office and seat of the Federal Government.

Palacio Cousino
A 19th century elegant mansion designed by a French Architect.

Los Graneros del Alba
Situated next to Los Dominicos Church, Los Graneros is the largest and most entertaining handicraft center in Santiago. It also includes antique shops and restaurants with local Chilean cuisine.

Museums

Museo Chileno de Arte Precolombino:
Built in 1805, the museum displays 4500 years of pre-Columbian history and art. Located at Bandera 361; it is open Tuesday through Saturday from 10am - 6pm, Sundays from 10am - 1pm.

Museo de Santiago - Located in the historic Casa Colorada. The museum has a fascinating collection of paintings, maps and dioramas documenting the city's history. Located at Merced 860; hours are Tuesday through Saturday from 10am - 4pm, Sundays from 10am - 3pm.

La Chascona (Museo Neruda) - One of Pablo Neruda's many unusual homes in Chile, is now a museum. Tours can be arranged through the Fundacion Neruda (777-8741). Located at Marques de La Plata 0195.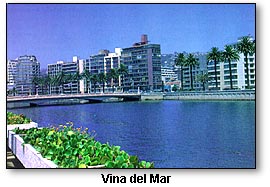 Vina del Mar Beaches
Vina del Mar, also known as Garden City, is an internationally-known beach resort area located just outside of Valparaiso and about an hour from Santiago. Every February, the International Song Festival held in Vina del Mar attracts the finest stars of Latin America.

Shopping
Providencia Avenue and two shopping malls are close by. The Mercado Central, Santiago's historic, wrought-iron central market, is also worth a visit--for lunch as well as shopping.

Restaurants
Santiago offers a wide variety of good restaurants, most of which are found in and around the city's historic colonial center. Particular recommendations can be obtained from the San Cristobal concierge, but for those who would rather make their own discoveries there are a few areas that are good bets. In the city center, Paseo Huerfanos, Paseo Ahumada, and the Plaza de Armas are good locales, as are the Alameda and Avenida Providencia. The lively, upscale Bellavista area, just south of the Cerro San Cristobal, is sure to offer any number of great dining choices.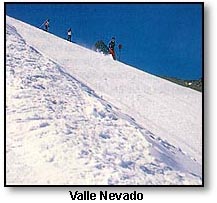 Ski Areas
Valle Nevado and Portillo ski centers, both among the finest skiing centers in the world, are conveniently located to Santiago. Portillo, a past host of world championship alpine events, has also been the site of a number of downhill speed records.

Vineyards
The wines of Chile have in recent decades earned a premier reputation. The Maipo Valley, the center of the country's wine production, lies just to the south of Santiago, and a number of its better wineries offer tours and tastings. For more information, inquire at the concierge desk.

---
Copyright (c) 1998 - 2010 interKnowledge Corp. All rights reserved.