Like many of the other Islands of The Bahamas, scuba diving is the most popular activity, but San Salvador is dotted with monuments, ruins, and other things to do and see out of the water.
San Salvador's main settlement is Cockburn Town (pronounced Ko-burn) on the west coast with a population of 486. Its famous landmarks include an enormous white-washed building that used to be a Catholic church, replaced by an adjacent modern structure, and the New World Museum. Winding around San Salvador's dozen or so land-locked lakes, you can see the plantation ruins in the towns of Fortune Hill and Sandy Point, including the well-known Watling's Castle.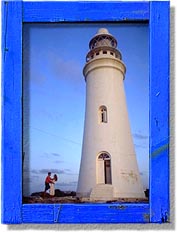 Farquharson Plantation
Known locally as "Blackbeard's Castle" because he may once have held court here, these are the most famous plantation ruins in The Bahamas. They include what might have been a great house, a prison and a kitchen. There is also a cattle trough cut out of solid rock.
Dixon Hill Lighthouse
Built by the Imperial Lighthouse Service in 1887, it is one of the last hand-operated, kerosine-lit lighthouses in the world and the last of its type in The Bahamas. You can climb 160 feet to the top of the lighthouse, which has a visibility of 19 miles.
Columbus Monument, Long Bay
A white cross, erected on 25th December 1956 by Ruth Durlacher Wolper, to commemorate the landfall of Christopher Columbus on San Salvador, during his discovery of the New World in 1492.
Olympic Monument
Mexican Monument commemorating the transferring of the Olympic flame from Greece to the New World for the 1968 Olympics in Mexico City.
Watlings Castle, Sandy Point Estates
Substantial plantation ruins, 85 ft. above sea level, including buildings used for industrial or storage purposes, a main house, a cookhouse, and slave quarters.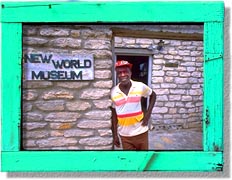 New World Museum, Palmetto Grove
Founded in 1958 by Ruth Durlacher Wolper, it houses Lucayan pottery, paintings of Columbus' landfall and artifacts from an original Arawak Indian settlement.
Bahamian Field Station
Formerly the College Center of the Finger Lakes, a field station for a consortium of Colleges in upstate New York, it is now run by the College of The Bahamas in Nassau. It is set up for the study of the island's biological and geological features, historic and prehistoric past, and students from across the USA, as well as other groups, study here. One of the college research centres is located on an old naval base.
Heloise Monument
Placed by the yawl "Heloise" while on an around-the-world cruise in 1951, one of the four monuments erected on San Salvador honouring the landfall of Christopher Columbus.
Pigeon Creek Indian Site
Archaeological excavations, conducted mainly by the College Center of the Finger Lakes' archaeologists, showing that the Arawak Indians had villages there.