T H E I S L A N D S
..................................
LOCAL ATTRACTIONS INAGUA
Lake Windsor
In the center of Great Inagua, this lake is a vast reserve for Caribbean flamingoes, the national bird of The Bahamas, which once graced all the islands and now make their last retreat here. These beautiful, rare birds mate and nest in the spring and lay only one egg each year. Their brilliant plumage is stunning, with a dramatic splash of black under rose colored wings. A diet consisting of brine shrimp helps maintain their dazzling pink color. The lake also provides refuge for roseate spoonbills, herons, egrets, maybe a rare Bahamian parrot or two, and, surprisingly, hummingbirds.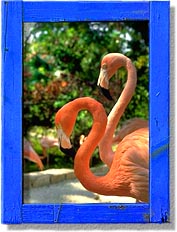 Flamingo & Turtle Tour
These two separate tours can be arranged through the Bahamas National Trust, headquartered in Nassau. Generally, visitors are not allowed on the reserve without calling ahead.
Matthew Town Settlement
The only town in Inagua, it is the site of an 1870 lighthouse.
Morton Salt Crystal Factory
Tours can be arranged to see the salt ponds, located near Matthew Town.
Salt House
An old salt warehouse (circa 18th-19th century), whose doorways incorporate stones from the ruined town of Port Royal in Jamaica.
Northeast Point
It is thought that the Haitian tyrant, Henri Christophe, used Inagua as a getaway, because of its proximity to Haiti. Accessible, but with some difficulty, are the remains of a summer palace he built here as a refuge around 1800. Presumably, he hid a cache of gold on this end of the island, a source of endless speculation by the Inaguans.