LOCAL ATTRACTIONS
Freeport/Lucaya:
The largest town in the Bahamas, Freeport in many ways represents the post-WWII rebirth of the islands that has been spurred by tourism. Before the rise of tourism, in fact, the town did not exist. It was created expressly for the pleasure of vacationers, and much of its development was the brain-child of a single man, an American from Virginia named Wallace Groves. True to his vision, Freeport offers just about every type of vacation activity imaginable. There are two casinos, dozens of bars and restaurants, and facilities where you can charter fishing boats or rent jet skis and scuba gear. The town is the embodiment of adrenalized, tropical entertainment.
Attractions in Freeport:

The UNEXSO Dolphin Experience:
The only park of its kind in the world, the UNEXSO Dolphin Experience is a place where visitors can swim with dolphins who are free to come and go. The Experience was designed to study how dolphins and humans interact. Due to its immense popularity, it is necessary to make reservations, preferably at least six weeks ahead.
Garden of the Groves:
Though the word "groves" suggests lots of trees, this garden was actually named after Wallace Groves. Spread out over 12 acres, it has over 1,000 species of plants and flowers, waterfalls.
Hydroflora Gardens:
The attraction of these gardens is as much the process as the product. All the flowers here are grown using the science of hydroponics, in which plants are grown in water rather than soil. There is also a museum dedicated to that most Bahamian of sea shells, the conch.
Lucayan National Park:
Lucayan National Park covers over 40 acres and four distinct ecological zones. Along with its abundance of plant and animal species, there are also caves you can explore via walkways.
Rand Memorial Nature Centre:
Covering an area of over 100 acres, the nature center features over 200 kinds of birds and 400 types of plants. This is the home of the Flamingo, national bird of the Bahamas.
Straw Market:
The Bahamas is well-known for its straw work, and at this market you can find virtually every kind of straw object made in the islands. There are also plenty of carvings and other traditional goods.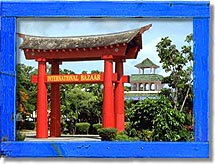 International Bazaar:
The International Bazaar is Freeport's main shopping zone, a sprawling collection of stores selling a wide variety of goods from all over the world, as well as traditional Bahamian arts and crafts.
Outside of Freeport:
West End:
During the prohibition, West End and the nearby towns on Grand Bahamas' west coast were the epicenter of rum-running. The area is rich in stories, and also has a long, gorgeous beach.