Local Attractions
George Town
The administrative center of The Exumas, with Elizabeth Harbour, one of the finest in The Bahamas and site of the famed Family Island Regatta.

St. Andrew's Church
This 189 year old Anglican church is located in George Town.
Straw Market
A huge African fig tree in the middle of George Town shades the straw market, where a variety of island-made crafts are sold.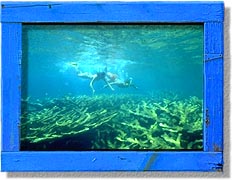 The Bahamas National Trust's Exuma National Land and Sea Park
The world's first national park lying partially beneath the sea. It is home to the Bahamian iguana and tropical birds and has long been a model for the preservation of the Caribbean's spectacular natural resources. As many of the smaller cays of the Exumas emerge from the water only at low tide, they offer an unusual and exciting environment for snorkelers and divers.
"Thunderball Grotto"
This hollow cave was the location for some of the dive scenes in the James Bond classic, "Thunderball ."
Mystery Cave
The "cave" is actually a mysterious tunnel descending 400 feet down into the sea floor.
Kidd Cove
One of the coves in Elizabeth Harbour which was, according to legend, the favorite anchorage of notorious pirate, Captain Kidd.
Rolle Town
This large settlement is home to the ancient and elaborate marble tomb of Ann M. Kay and her infant built in 1792. She is reputed to be the widow of one of Lord Rolle's overseers.
Hermitage Estate
Within these grounds stands the Cotton House, the oldest building in The Exumas, built in the 1750s as part of a 970-acre cotton plantation. It remains inhabited to this day.
Williams Town
Salt Pans and an Ionic Column are reminders of times past, when ships sailed the world in search of the great commodity, salt. The columns here marked big salt beds and ships called on The Exumas frequently because salt was plentiful.
Flotsam and Jetsam Museum
This unusual collection of sea "treasures" is owned by Gloria Patience, the famous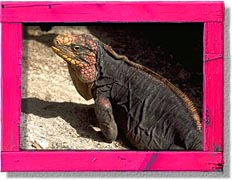 Shark Lady of The Exumas.
Wildlife Encounters
Feed friendly stingrays in ankle-deep water and, if the tide's right, watch the captain feed small sharks. Primitive iguanas up to 3 feet long wander Allen's Cay--you can wander with them, or experience the beauty of snorkeling for beginners. PADI divemasters are always on hand for safety and snorkeling instruction.