ELEUTHERA'S LOCAL ATTRACTIONS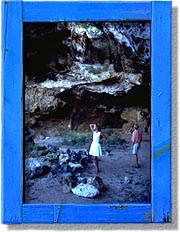 Preacher's Cave:
Preacher's Cave, on the North end of the island, has both a natural and historical appeal. It was in this large, blue-shadowed cave that the Eleutheran Adventurers sought shelter after shipwrecking nearby. They had fled Bermuda in search of religious freedom, and it was in this cave that they held their first services in what would become their permanent home.
Windermere Island:
The waters surrounding Windermere Island, prized for their jewel-like depth and clarity, are a favorite playground for the rich and famous. At one time, its visitors included Prince Charles and Princess Diana. The island is linked to Eleuthera by a five-mile bridge.
Hatchet Cave:
Once a haunt of pirates and buccaneers (and it looks like one, too) Hatchet Cave is a towering, mile-long chamber rich in stalactites and stalagmites.
Harbour Island:
Harbor Island, at the northeastern end of Eleuthera, is the site of the oldest settlement in the Bahamas, Dunmore Town. It was here that the founding residents, the Eleutheran Adventurers, established the hemisphere's first republic. The colonial-era atmosphere of the town is incredibly intact. Among its attractions are the Hill Steps, which the settlers hand-carved.
Gregory Town:
Best-known for its great food and exotic tropical drinks like its famous pineapple punch, Gregory Town is also gaining recognition because of its rock star resident, the vocalist and guitar-wizard Lenny Kravitz.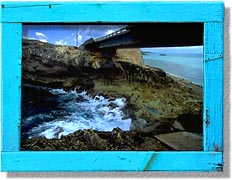 Glass Window Bridge:
Glass Window Bridge, originally the site of an extraordinary natural arch linking the Exuma Sound to the Atlantic, is one of the most impressive sights on Eleuthera. Unfortunately however, the natural formation was washed away in a hurricane in 1965, but the location itself is still immensely scenic. To watch the ragged, deep blue waves of the Atlantic crash and swarm across rocks toward the Sound is truly mesmerizing.
Spanish Wells:
It from the fresh-water reserves of this island that Spanish sailors renewed their water supply after the long Atlantic crossing, among them the legendary explorer who sought the Fountain of Youth, Ponce de Leon. As the "Spanish Wells Song" tells the story...

Ponce De Leon tired of searchin' For a way to stay young Put Spanish Wells water on his tongue It did not move his gray hairs Or restore his wounded pride But we know for sure he lived until he died
As the song suggests, the inhabitants of Spanish Wells are intensely proud of their past, and the islanders are known for their seamanship and fishing ability.