Exploring Cat Island
Columbus Point
One of the many Indian caves which honeycomb the island, and a conch shell monument to Christopher Columbus, a testament to the local's undying belief that here marks his first landfall, much to the dismay of the nearby San Salvadorians, who insist that the honor belongs to them.
Hawk's Nest
A pictuersque area which derives its name from a past resident, a tremendous hawk, who made her nest there for several years and was held in awe by the locals.
McQueens
Original Arawak Indian cooking areas can be found in this settlement.
Mt. Alvernia
"The Hermitage," a miniature monastery and excellent replica of larger hermitages in Europe, built on Mt. Alvernia in the 1940s by Father Jerome, an architect and Jesuit missionary. He also built churches--one on Cat Island, five on Long Island--and designed St. Augustines College on New Providence in the early part of this century. Father Jerome's tomb is also located on Mt. Alvernia.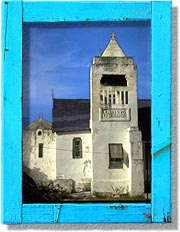 Old Bight
Cat Island's largest town is home to St. Francis of Assisi Catholic Church, built by Father Jerome. With a gothic facade and detailed interior sculptures and frescoes, the church may well be the most beautiful building on the island.
Orange Creek
Is the site of two "blue holes," bottomless fresh-water lakes whose levels rise with the tide.
Port Howe
Named for Admiral James Howe, first English commander during the American Revolution, this settlement has several old plantation ruins. The hand-pegged kitchen of the DeVeaux Mansion, one of the most interesting, is still intact. Colonel Andrew Deveaux is famous for ousting the Spanish from Nassau in 1783 during the American Revolutionary War and was rewarded with 1,000 acres on Cat Island.