Exploring the Berry Islands
Chub Cay
The island borders a deep-sea gully known as the Tongue of the Ocean. Bait fish are drawn into the submarine gardens off its coast and larger fish follow, making it a fisherman's paradise with guaranteed winning catches.
Great Harbour Cay
A breezy cay with pretty hills, silvery low-rise palms and succulent, edible sea grapes--sweet purple berries that the natives hunt like treasure.
Great Stirrup Cay
Located north of Great Harbour Cay and Little Stirrup Cay, it is the home of an 1863 lighthouse. During the reign of William IV, the cay had visions of grandeur; Williamstown was laid out in his name and a customs house was erected. The anticipated prosperity did not drop anchor here, but the wreck of an unidentified ship lies just offshore.
Mamma Rhoda Rock
This spiky, shallow coral reef is a must for divers; only 16 feet high, crawfish and moray eels share living space in the hole-filled rocks.
Queen's Beach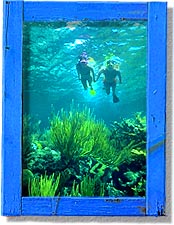 Offers beach lovers three miles of sandy, pine-treed beach.
Sand Dollar Hill
A sandy shoal offering great shell pickings.
Hoffman Cay
Has a 600-foot blue hole, whose only living inhabitants are oysters.
Bullocks Harbour
The largest settlement in the chain, is a sleepy village located on Bamboo Cay.
Sugar Beach Caves
Considered by many the prettiest place in The Bahamas, it is an area of numerous sandy coves set among cliffs, which are said to resemble the great Mediterranean beaches.