Exploring Andros
Visitors to Andros are especially invited to join in the fun and conviviality surrounding the favorite Bahamian pastime of regatta sailing. The All Andros Regatta October at Morgan's Bluff features held annually in late festivities for all visitors and boating enthusiasts. Some sixty locally-constructed sailing sloops meet in the waters off Morgan's Bluff, North Andros, for a day of fierce competition. Vessels contesting the races fall into five categories ranging in size from 28 feet to 120 feet. A party atmosphere prevails onshore, with a festival of island food, native music and entertainment. Regatta date is subject to change. Special mailboat and plane excursions depart Nassau for North Andros a day prior to Regatta. For more information, contact the Regatta Desk at the Ministry of Youth & Sports, telephone (242)326-5657 or (242)322-2549.
Farther inland, explore the deep forest of pine, mahogany, mangroves, and bush where rare birds, four-foot-long iguanas, and possibly that elusive chickcharnie can be found.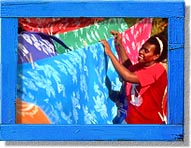 Androsia Factory
Locally-made, hand-dyed and painted Batik fabric and fashions with exquisite local designs are for sale.
Morgan's Cave/Morgan's Bluff
A wide system of subterranean limestone caves, complete with stalactites and stalagmites, reputed to hold the treasures of famed pirate and namesake, Sir Henry Morgan, whose treasure has yet to be found.
Atlantic Undersea Testing and Evaluation Center (AUTEC)
Just off Fresh Creek, this joint operation of the US Navy and The Bahamas government is one of the best and busiest underwater testing facilities in the world (not open for general visits).
Red Bays
A remote village settled by Seminole Indians and Blacks in 1821. For many years the settlement lay isolated and could only be reached by boat. The basket-weaving crafts practiced here are detailed and highly advanced.