Exploring Acklins
Lovely Bay
Location of the ferry to and from Crooked Island; its schedule coincides with flights at Colonel Hill airport.
Snug Corner
The number of church steeples and dance halls are a testament to the townspeople's creative ability to make the most out of both worlds.
Spring Point
Acklins' capital and the location of Outside Kitchen, a stonehouse ruin smothered by flowering bushes.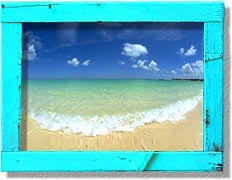 Delectable Bay
The interpretation of the name is left to the imagination; this "town" is just a few houses and some bushes.
Pompey Bay
Sleeping remains of plantation rock walls reflect the atmosphere of the town.
Offshore Islets
Castle Island, off the southwest tip of Acklins has a conspicuous 1867 lighthouse once used as the retreat of pirates who attacked ships in the nearby passage. Sailors might also want to check out the Mira Por islets and the Samana Cays.

Exploring Crooked Island
Bird Rock Lighthouse
This 112-foot lighthouse built in 1872 stands on the cliffs at the northern entrance of the Crooked Island Passage. Christopher Columbus is said to have anchored here for a short period.
Caves of Crooked Island
The stalactites and stalagmites take on unusual forms and shapes, to some they resemble the ruins of churches and castles.
Colonel Hill
The highest point on the island with an unmatched view.
French Wells
Remains of fortifications, including an old cannon, stand as reminders of the colonial period.
Hope Great House
The house was the centerpiece of a 19th century plantation around the time of George V of England. Now the ruins are embraced by aloe and other plants from the orchards and gardens. It is a protected Bahamas National Trust landmark.
Landrail Point
This northern port was the site of The Bahamas' first general post office; its remaining walls are part of the Pittstown Point Dive Club at Pittstown Landings.
Marine Farm
An ancient British fort, it guards the north entrance of the Crooked Island Passage.