---
Historic Quarter
Cordoba's Historic Quarter, located in the heart of town, features one of South America's most unique arrangements of colonial architecture. Its major sites are the Cabildo, (1588); the Cathedral (1574); San Martin Square (1577);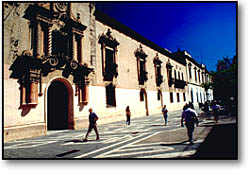 the Church and Convent Las Teresas (1628); the Obispo Trejo Pedestrian area; the Church Compania de Jesus (1640); the Montserrat School (1687) and the National University of Cordoba, the oldest university in Argentina and the second oldest in South America.

San Martin Theater
The San Martin Theater, opened in 1891, is the oldest theater in Argentina. The interior details of this building are marvelous and make the theater an architectural as well as cultural attraction. San Martin was originally conceived as an opera house - a fact that gives it superior accoustics - but today the main productions are symphonies, ballets, and plays.

Valle de Punilla
The Valle de Punilla has long been a preferred holiday spot in Argentina, and there are many resorts situated around the villages of Carlos Paz, Cosquin, La Falda, La Cumbre, and others. The pleasures of the valley revolve largely around nature, although there's no shortage of cultural attractions such as Hotel Eden (1700) and the Chapel of Our Lady of Mercedes.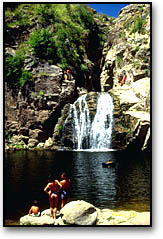 Lakes & Ranges District
Cordoba's Lakes and Ranges District is a region of rolling foothills, mountains, and deep blue lakes. There is also some history here: Che Guevara spent his childhood in the region, and the village of Alta Gracia was once a jesuit stronghold. Villa General Belgrano, with its European atmosphere, hosts the National Beer Festival. Another annual event that takes place here is the World Rally Championship every May.

Valle de Traslasierras
This area has been a vacation spot for over 100 years, mostly because of Mina Clavero - a town situated in region of impossibly clear mountain streams, waterfalls, and the grand wilds of the Sierras de Cordoba.

Sports
Sporting events are big in Cordoba. The city's two strongest soccer teams, the Talleres and Belgrano divide the loyalties of the inhabitants in a passionate and ongoing dispute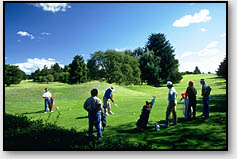 . Major games takes place at the Chateau Carreras Soccer Grounds. Basketball is thriving in the province because of Atenas - one of the best teams in South America. Because Cordoba is a resort capital, it is also a good place to play golf. Beautiful greens such as Villa Allende, La Cumbre, and Las Delicias abound.
---
Copyright (c) 1998-2012 interKnowledge Corp. All rights reserved.