Caracas, Venezuela
---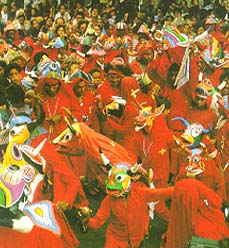 Venezuela's original inhabitants were descended from the Carib and Arawak Indian groups, who were then conquered by the Spanish. Africans were brought to the country as slaves by the various groups of European fortune hunters who followed as the country's bounties were discovered. And, with the discovery of oil, the rest of the world followed. Today, a fusion of Africans, Creoles, and Indians comprise two-thirds of the population. The official language is Spanish, with linguistic diversity found in the cities and ethnic Indian languages surviving in various areas.

Venezuela is sophistication fueled by oil. Known for its grace and hospitality, it is an extravagant collage of wonders, natural and man-made. Caracas, Venezuela's cosmopolitan capital, sprawls through a long and narrow coastal valley. Business, finance and government dominate and the architecture is an eclectic mix of colonial, classic and avant garde.

There is an extensive system of freeways that knife through rows of downtown skyscrapers into the glorious countryside. There you will find a beach lover's paradise, a steady stream of sunny days, a 3,000km coastline, and 72 Caribbean islands just offshore. Within easy reach of Caracas, nature exists close to its original unsettled state--vast llanos (plains) where cattle range freely, the towering Andes with extravagant waterfalls, deserted coral islands, and dense rain forests of the upper Orinoco that still shelter primitive Indian tribes.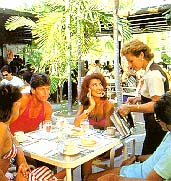 The variety of Venezuela's people is reflected in the city's cuisine: Spanish seafood, Argentine churrasco, French haute cuisine, Italian pasta, German sausage, Brazilian feijoada, American, Middle Eastern, and Oriental. Venezuelan dishes include parilla (barbeque), arepas (cornbread stuffed with just about anything), and fresh, exotic tropical fruit. Dining establishments range from street vendors to formal five-star followed by a range of after-dinner entertainment, such as disco, salsa, jazz, and elaborate live shows.
Exploring Caracas
---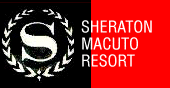 ---
Copyright (c) 1996 interKnowledge Corp. All rights reserved.