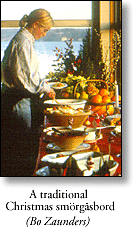 On the morning of December 13th, well-before daybreak, a young girl rises from bed and dresses herself in white. Donning a crown of lighted candles, she sings about the darkness of winter and the light about to return. With this song, she awakens her family.
This is a scene repeated in thousands of homes throughout Sweden. The girl is usually the oldest daughter of the house, and after she wakes her family, she serves them coffee and saffron-flavored rolls. Whatever her name, both she and the day are known as Lucia. Later, the ceremony will be repeated at offices and workplaces throughout the country, with young women as Lucias.
Lucia is a hybrid of medieval Swedish and post-Reformation German traditions, and it marks the beginning of the Christmas period -- the defining feature of the Swedish winter.

It is at this time that the greatest smörgåsbord appear, with the most lavish on Christmas Eve. The feast will probably include herring and pickled beets, salmon, small meatballs, sausages, liver pate, and seasonal specialties such as browned cabbage and lutefish. The centerpiece of the meal is a generally a large ham, and ris a'la malta for dessert.
Unlike Christmas Eve, New Years Eve is a time when Swedes go out and splurge at a fine restaurant. After dinner, the restaurants empty out and the streets, bars and clubs fill up. The evening culminates outside, with the flash and boom of fireworks.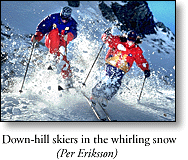 Winter is also a time when the country takes to the ski slopes. The long winter creates ideal ski conditions from November to May, with midnight sun shining in Lapland until mid-June. Sweden is one of the few places in the world where resorts actually guarantee snow ahead of time. No snow, and you get your money back. Given such reliable conditions, it is no wonder that winter activities here have evolved into such varied pursuits as snowboarding, parascending, paragliding, snow-scooter and dog-sled and reindeer safaris, ice-surfing, yachting, and ice-climbing.
---
Copyright (c) 1997 - 2008 interKnowledge Corp.
All rights reserved.