Summer days are long and warm and light in Sweden. In the northern reaches, the sky darkens briefly to twilight, then lightens again. There is something alluring about an evening that knows no darkness. You get the calmness of night without its pathology, and you can see the people you are with. It's hard to imagine a better time for a party, and for Swedes the Midsummer party is always the best.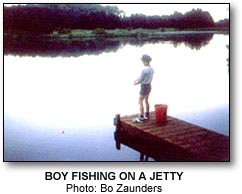 Midsummer celebrations occur on the Friday and the forthcoming weekend closest to June 24, the "official" Midsummer's Day. As this weekend approaches, thousands and thousands of Swedes head for the country, where they arrive at an open field. There, they raise a "Midsummer pole," or a maypole, which is decorated with leaves and flowers, flags and fetishes. They dance and sing around the pole, play traditional games, consume enormous amounts of food and drink, and let the evening take them away.
The late evening often ends with a swim in the sea or a sunwarmed lake, since the water temperature is often agreeable and Sweden is surrounded by water both inland and along the coasts.
In the cities, the parties take place in parks or communal spaces, and long tables are laid out for food and beverages.
Another summer tradition is the crayfish party. Like its name implies, the guests of honor at this party are the crayfish which are devoured by the dozens. This tradition began in the late 19th century, when heavy exportation threatened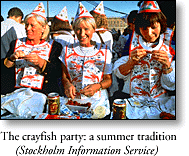 Sweden's crayfish populations. A ban on harvesting was instituted, and it ran until August - when the locals celebrated its end by throwing crayfish feasts. Later, a disease annihilated virtually all of Sweden's rare crayfish, and today Sweden is the largest crayfish importer in the world (although the Swedish crayfish is still the most sought after because of its taste).
In Gotland, early August means Medieval celebrations, and in Stockholm it means outdoor living i.e. cafÚs, outdoor dining, excursions to the Archipelago and picnics in one of the many parks. Stockholm's water is among the purest found within a world city, and it is completely safe to swim and fish in.
---
Copyright (c) 1997 - 2008 interKnowledge Corp.
All rights reserved.