PUERTO VALLARTO
Explorations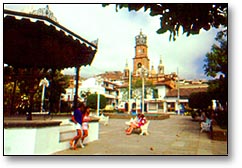 Downtown
Puerto Vallarta has a charming downtown area. Designed in typical Mexican fashion, downtown is centered around the zocalo, or main square. You can gather here in the evenings to have a drink and watch couples stroll by.

Jungle Tours
Many visitors to Puerto Vallarta like to take a day to explore the surrounding jungle, which is filled with interesting wildlife, including monkeys and many kinds of brilliantly colored birds. Tours can be easily arranged. A popular trip is a visit to "Chico's Paradise," an open air restaurant in the jungle with striking views of a nearby waterfall.

Guadalajara City
From Puerto Vallarta, you can easily arrange for a day trip to Guadalajara City.
Boat Tours to Yelapa and Las Animas Beaches
From Vallarta's Los Muertos Pier, you can catch a boat to the nearby idyllic village of Yelapa and Las Animas, both of which have excellent beaches. Horseback riding is also available at Yelapa, or you can charter a fishing boat.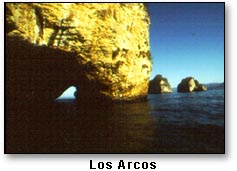 Los Arcos
"The Arches" are among Vallarta's most scenic attractions. Lying a few hundred yards off shore, they are massive rock formations rising up out of the sea. The area around the arches is also the best spot to snorkel and scuba dive.

..................................................................................................
Other Activities available in Puerto Vallarta:
Horseback riding tours
Parasailing
Water sports
Whale watching (from November - April)
Golf
---
Copyright (c) 1998-2008 interKnowledge Corp. All rights reserved.

.