Monterrey
An Introduction

Industry is the word for Monterrey. Per capita, more goods are produced here than in any other Mexican city - about 25 percent of Mexico's total manufacturing base. Monterrey lies about 150 miles from the American border in Texas, and the city is known for being decisively pro-US when it comes to business practice. For this reason, it is the most favored city for business travelers outside of the capital. In case anyone forgets the source of local civic pride, the town's largest monument - El Faro del Comercio ("The Lighthouse of Commerce") provides an unforgettable reminder.

At one time steel was the big item here, but that industry has been replaced by machinery, food and beverage, and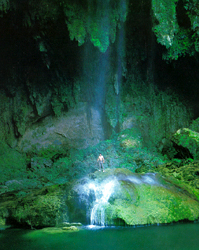 metal parts. The city is also famous for its giant exhibition hall, the Cintermex and the Monterrey Institute of Technology - Mexico's MIT.

Not far from Monterrey are several excellent nature excursions within the State of Leon. Fifteen minutes outside of town is Huasteca Canyon, famous for its beautiful mountains and wind-carved rock formations. There is also Horsetail Falls, a series of three wispy waterfalls that mist down a mossy face.
---
Copyright (c) 1998-2008 interKnowledge Corp. All rights reserved.

.