CANCUN
Explorations

Tulum
Many people consider Tulum to be the loveliest of all of Mexico's ruins. It sits on cliffs just above the sea and was built sometime after 900AD, in the latter part of Mayan history. The principal building is the graceful and domed Castillo, which some have speculated was once a lighthouse meant to guide boats through a nearby reef passage. Other famous buildings are the Temple of the Frescoes, and the Temple of the Descending God.

Chichen Itza
A few hours inland, Chichen Itza is well worth a visit. It is much larger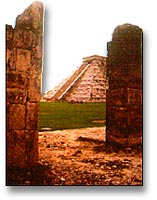 than Tulum and it was built by the Toltects in the late 10th Century. The main, pyramid, called El Castillo, is one of the best preserved pyramids in Mexico. The pyramid's design is imbued with calculations based on the Toltec calendar. There are 365 steps for the days of the year; 52 panels on each side, representing the 52-year cosmic cycle; on the spring spring equinox, a serpent appears to crawl down the steps, while it climbs back up on the fall equinox.Other important buildings are the Temple of Warriors, the Observatory, and the Ball Court.

Other Ruins
There are many other ruins in Yucatan which you can visit by car or bus, including: Coba, El Balam, Yaxuna, Izamal, Uxmal, Kabah, Ake, and many more. If you're interested in learning where all the sites are, there are many archeological maps of the peninsula available.

Xcaret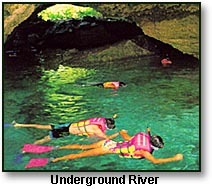 Xcaret is a popular ecological and archeological theme park located about 45 minutes south of Cancun. You can don a mask, snorkel, and fins and explore an underground river system, swim with dolphins, ride horses, explore the resident Mayan ruins, and experience the wonders of Xcaret's aviary and butterfly farm.

Xel-Ha
An hour south of Cancun, Xel-Ha is another ecological theme park, remarkable for its crystal clear turquoise lagoon. The lagoon begins in a mangrove forest and ends at the seashore, and you can snorkel the length and admire the thousands of colorful fish residing in this "natural aquarium."

Cenotes
Yucatan is dotted with thousands of ancient Mayan wells, called cenotes. They are openings in a vast network of underground river systems carved from the peninsula's limestone base. The limestone filters out impurities in rainwater, and the resulting water is impossibly clear. You can arrange to snorkel or even scuba dive in a local cenote, though you should never do this without supervision.
Other Attractions and Activities:
Isla Contoy - A local bird sanctuary.
Wet'n Wild Water Slides
Scuba Diving - the diving in the area is excellent and easily arranged.
Water Skiing
Sailing
Surfing
Deep Sea Fishing
Water Bikes
Windsurfing
Jet Skis
Jungle Tours
Bullfights every Wednesday
National Folkloric Ballet & More
---
Copyright (c) 1998-2008 interKnowledge Corp. All rights reserved.

.