ACAPULCO
Explorations

Some of Acapulco's most interesting places to visit include:
Playa Caleta
Famous for its aquarium and as a jumping-off point for tours to Isla Roqueta.
Isla Roqueta
Home to the world's only island zoo.
Virgen Sumergida
A famous underwater shrine.
Pie de la Cuesta
The strip of beach that divides the Pacific Ocean from the tropical Coyuca Lagoon.
La Quebrada
Here Mexico's famous cliff divers plunge 136 feet (41 meters) into shallow rocky coves, carrying lighted torches.
---
Activities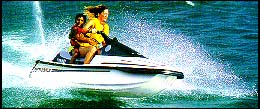 Acapulco is Mexico's most famous resort destination, offering round-the-clock excitement. Daytime options include playing on glittering beaches, numerous water sports activities, including challenging freshwater fishing in the Coyuca Lagoon, plus local sightseeing, fabulous shopping, and championship golf. Also, Acapulco is one of the five finest resorts for tennis in Mexico with a variety of surfaces to play on. The city's vibrant nightlife is centered around its spectacular discotheques.
---
Copyright (c) 1998-2008 interKnowledge Corp. All rights reserved.

.