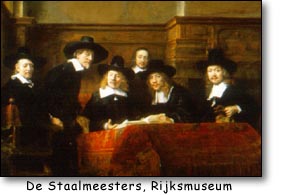 Attractions
Rijksmuseum, Amsterdam. It's among the world's great art museums with a grand collection of Dutch paintings, including Rembrandt's Night Watch, as well as major works of foreign artists and decorative arts.
Vincent van Gogh Museum, Amsterdam. One of two outstanding collections of Van Gogh paintings—the other being at the Kroller-Muller Museum in Otterlo.
Zuiderzee Museum, Enkhuizen. Depicts the life of area fishing villages before they were cut off from the sea by dikes.
Mauritshuis Museum, The Hague. This superb collection of 17th-century painting includes works of Rembrandt, Vermeer, Jan Steen and Frans Hals.
Bonnefanten Museum, Maastricht. A collection of archaeological finds from the province of Limburg dates from 250,000 B.C. to the 2nd century.
Boymans Van Beuningen Museum, Rotterdam. Dutch paintings from Van Eyck to Van Gogh, Italian and French paintings, modern paintings and sculpture.
Groninger Museum, Groningen. Exhibitions of archaeological finds, history, industry and the arts from ancient to modern times as well as a contemporary art collection.
Netherlands Open-Air Museum, Arnhem. An outdoor exhibit of traditional farmhouses, windmills and shops.
Note: A Museum Pass, available at museums or at the local VVV tourist offices, is good for free admission to more than 400 museums throughout Holland for a cost of about $27.50 for adults, $12.50 for youth and $22.50 for seniors.
Something Special
This year, Amsterdam will be the first European host of the Annual Gay Games, which take place Aug. 1-8 and include more than 30 sports. Opening and closing ceremonies will be in the new Amsterdam ArenA Stadium; some 15,000 participants and 200,000 spectators are expected. The games are open to anyone irrespective of gender, sexual preference, skill, disability, ethnicity or religion.
There will be street parties by day and cafe parties at night. An adjunct cultural program will include museum exhibitions and a choir festival.