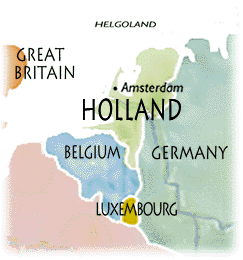 Tulips, windmills and wooden shoes have made Holland world famous. The Dutch are also known for success in commerce, warm hospitality and impressive artistic and cultural achievements.
Points of Interest
Area: 14,103 square miles (the size of Massachusetts, Connecticut and Rhode Island combined). Population: 16,653,000 (Amsterdam, 722,000; Rotterdam, 599,000). Language: Dutch.
Highlights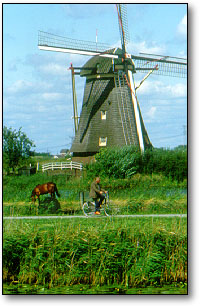 Amsterdam, the compact capital, became a great city in the 17th century. The Dam is the principal square. A canal tour is the best way to appreciate the elegant facades of the old merchant townhouses. The city's artistic wealth-42 museums, 141 art galleries, 65 concert halls and theaters-is well known. Annual events include the Amsterdam Arts Adventure (summer and winter), the Uitmarkt (opening the cultural season, Aug. 30ŠSept. 1) and the Holland Festival (June).
The Hague is the seat of government and home of the International Court of Justice. Queen Beatrix receives heads of state in the Noordeinde Palace. Other regal sites include Huis ten Bosch Palace and Lange Voorhout Palace.
Maastricht was founded by the Romans in 50 B.C. Since 1991, when European Union leaders met here, it has been linked to the cause of unification. The city draws visitors for its cozy cafes and convivial Burgundian atmosphere.
Rotterdam is the world's busiest port. Tour the sprawling waterfront by boat and get a bird's-eye view from the revolving top of the Euromast.
Haarlem, long an art center, is known for its town hall and the Gothic Grote Kerk.
Utrecht is famous for its canals below street level, which provide access to cellars of canalside houses, many of which are restaurants and boutiques today. Stop at the Dutch Railway and the Musical Clock and Street Organ museums.
Delft is home of the famous blue-and-white earthenware.
Leiden is the birthplace of many painters, most notably Rembrandt. The oldest university in Holland is here.