Entertainment, Dining, and Shopping in Holland...

Entertainment

Excellence in the performing arts is a Dutch hallmark, as evidenced by the Concertgebouw orchestra and the National Ballet. The Netherlands Dance Theater is based in The Hague. Reservations for major symphony, opera and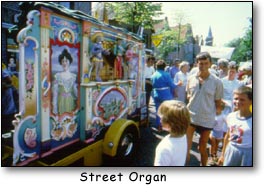 dance performances can be made through the Netherlands Reservation Center (see Where to Stay).
Amsterdam nightlife centers on clubs in the Leidseplein and Rembrandtplein. Open-air terraces are alive late into the night during summer. Amsterdam is also great for casinos and discos such as the Odeon, the Escape, Mazzo and the Boston Club.

Food & Drink

The Dutch like a substantial breakfast, which may consist of breads, cheeses, sausage and cold cuts, jam and coffee or tea. Lunch resembles breakfast, with the addition of soup or salad.
Between lunch and dinner, observe the borrel, a happy hour for coffee or a drink with snacks. Stalls and shops purvey broodjes (small sandwiches stuffed with meats and cheeses). Other popular snacks include salted raw herring bits sprinkled with onions and tosties (melted cheese and ham).
Indonesian restaurants throughout Holland offer the rijsttafell (rice table), a succession of dishes ranging from mild to very spicy.
"Brown cafes" (named for the woodwork), the Dutch equivalent of pubs, are the place to sample Dutch beer and gin.
Shopping
Specialties include flower bulbs (cleared by U.S. Customs in advance), decorative tiles, crystal, cheeses and Delft blue porcelain. Amsterdam is a world center for diamonds; many firms offer tours of factories and workshops.
The main shopping streets in Amsterdam are Kalverstraat and Leidsestraat. The Spiegel Quarter, near the Rijkmuseum, is a popular antiques center. Check out the Waterlooplein flea market, the general market at Albert Cuyp and the Bloemenmarkt for flowers (all open daily except Sunday).