Entertainment, Dining, and Shopping in Croatia...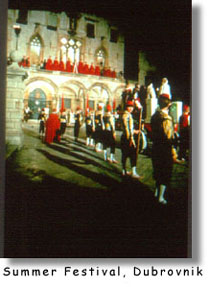 Entertainment
Croatia is heaven for lovers of the arts. The Pula Film Festival attracts world artists; the Zadar Music Evenings features world-class composers and performers. Sinjska alka is a special cultural monument, a blend of sport, folklore and most of all a Croatian ode to freedom.
Food & Drink
Sample fresh seafood and local wines. Regional specialties include Dalmatian pasticada (stuffed beef cooked in wine), lambŐs meat from the island of Pag, ZagrebŐs Zagrebacki Odrezak (veal cordon bleu) and turkey with mlinci (thinly rolled dough). In Dalmatia, try the black risotto. Taste also the local wine, in particular the Zinfandel, whose grape originated here.
Shopping
Bring back a sachet of lavender, grown on Hvar island, red coral from the Adriatic sea, Maraschino liqueur, fine ceramics and crystal. Neckties were invented here; get one.