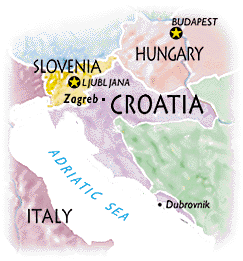 Croatia is famous for the rugged beauty of its long Dalmatian coast. Medieval towns are set amid the beaches and islands.


Points of Interest
Area: 35,161 square miles. Population: 5,027,000 (Zagreb, 707,000). Language: Croatian.
Highlights
Dubrovnik is one of the world's best preserved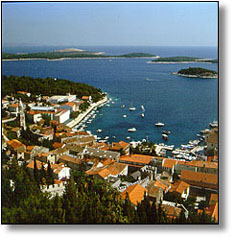 medieval cities. Walk the Stradun and admire the Onofrio Fountain, Rector's Palace and Church of St. Blaise. On neighboring Korcula island, the knightly Moreska dance is performed.
Zagreb, 900-years old, is a capital of charm, spirit and art. See the historic Upper Town, with neo-Gothic St. Mark's church, or Ban Jelacic's square and Ilica street for shops and bistros. A necklace of parks is surrounded by the 17th-century university, the Academy of Arts and Sciences and the Mimara Museum (with works of Rafael and Rembrandt).
Split is the center of Dalmatia. The magnificent palace of Diocletian is the setting for a major music festival. Along the coast are the breathtaking islands of Solta, Brac, Hvar, Vis.
Porec is one of the Adriatic's most popular resorts, with sports, shopping and dining against a Byzantine backdrop. Pula is to the north. On Kvarner Riviera are Opatija's old-style resorts and spas.
Plitvice lakes, 16 untouched lakes and picturesque waterfalls, can be reached in just two hours from Zagreb.
Zadar and Sibenik offer access to an archipelago of more than 400 quiet, unspoiled islands. Visit nearby Nin, the 7th-century center of political, cultural and religious life. Must-sees in Sibenik are the Cathedral of St. Jacob and the Gothic Franciscan monastery.
Osijek, with Tvrdja fortress, is in the plains. Known for its ornithological preserve.
The 800-year-old city of Varazdin is the center of northwest Croatia, a region of sleepy villages, vineyards and thermal spas. Baroque "Evenings of Varazdin" are held here.