Entertainment, Dining, and Shopping in Sweden...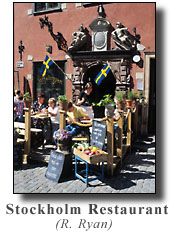 Entertainment
The Cultural Capital program will spotlight the Royal Swedish Opera (entering its 100th year) and its major new productions. The opera house will also welcome many visiting dance companies, including Moscow's Bolshoi.
Drottningholm Court Theater, about seven miles from Stockholm, is a wonderfully preserved 18th-century theater, presenting opera and ballet in the summer.
The Cafe Opera, a bistro during the day, is one of Stockholm's most crowded clubs at night. Recently, pubs have been gaining popularity.
Liseberg Amusement Park in Göteborg is the largest in Scandinavia.
Food & Drink
Swedes are raised on a diet of herring in many forms, köttbullar (meatballs) and the traditional Thursday meal of thick, yellow-pea soup with pork, followed by pancakes with lingonberry preserves. Other culinary traditions include Jansson's Temptation, a gratin of spiced, pickled sprats, which the Swedes call "anchovies," potatoes, cream and onions; the hash called pytt i panna (the hash is very similar to the American hash: Meat and Potatoes cooked in a frying pan, served with an egg on top, often with pickled red beets.); and gravlax, delicate cured salmon served with a mustard-dill sauce.
Food is an important feature of every celebration, be it a national holiday or a family event. There's St. Martin's goose, and the saffron-flavored buns known as lussekatt (Lucia cats). The August crayfish parties demonstrate that food itself can be reason enough to celebrate.
The smörgåsbord, that bountiful buffet of hot and cold dishes, is the best way to try the greatest variety of Swedish dishes in a single meal.
Shopping
A uniquely Swedish sense of design has reached into homes and offices around the world. Based on an aesthetic tradition of simple proportions and a feel for materials, it creates everyday objects that are at once more functional and more attractive.
Department stores and trendy boutiques specialize in the latest Swedish fashion items and designs for home and personal use. Stockholm's Nordiska Kompaniet (NK) and Åhléns are among Scandinavia's largest department stores. Shopping streets in the capital include Biblioteksgatan, Gamla Brogatan and Sergelgatan.
Småland, Sweden's glass district, is the home of famous Kosta Boda and Orrefors crystal. Other well-known products include furs, stainless steel flatware and other items, jewelry, dolls and handicrafts. The colorful wooden Dala horses, manufactured in Nusnäs, are available throughout the country -- you shouldn't leave Sweden without one.