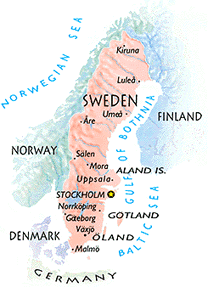 From the unspoiled northern wilderness to the castle country of the south, Sweden is a travel smörgåsbord. This year, Stockholm will put on a grand show as Europe's Cultural Capital.

Points of I nterest
Area: 173,800 square miles (larger than California). Population: 8,946,000 (Stockholm, 1,545,000; Göteborg, 751,000; Malmö, 460,000). Language: Swedish. However, English is widely spoken


Highlights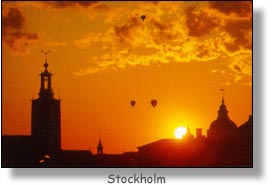 Stockholm, Scandinavia's largest city, is a historic capital as modern as the 21st century. In Gamla Stan, the old town, brightly colored houses date to medieval times. Many of them are now shops, restaurants and pubs. Riddarholm Church, built in 1270; the Royal Palace, featuring royal regalia and artifacts; and the magnificent City Hall, where the Nobel Prize banquet is held, are sightseeing musts. Many performances and exhibitions are on the Cultural Capital program; a highlight will be the opening of the new Moderna Museet, for modern art, in February.
Many visitors prefer to tour the city from the water, since Stockholm is built on 14 islands. East of the city, in the Baltic, is a maze of 24,000 islands where ideal sailing conditions prevail. About 40 miles from the city, near Mariefred, is Gripsholm Castle, a well-preserved 16th-century fortress.
Vaxholm is a picturesque community located in one of the most beautiful parts of the Stockholm archipelago. On the island is the impressive Vaxholm Fortress.
Göteborg, the largest port and home of Volvo, is an important business center, but its citizens believe in taking plenty of time out for fun. The hub of the city is broad Kungsportsavenyn.
Malmö is an ancient city, where remnants of the Middle Ages are visible everywhere. There is frequent ferry service from Copenhagen, and it is the gateway to Skåne, the lovely Swedish chateau country.
Dalarna is a region of lakes and forests. It is the home of Sweden's most authentic folk music. The best time to visit is midsummer. Sälen and Åre are winter sports resorts in the mountains to the north.
Lapland, above the Arctic Circle, offers an abundance of wilderness activities, as well as the frozen Ice Hotel. Get to know the culture and traditions of the native Sami people and ski in the Midnight Sun at Riksgränsen mountain (May and June).
Visby is on the island of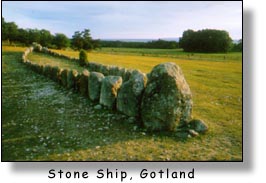 Gotland. Its history predates the Vikings. The City Wall, a 13th-century triumph of engineering, runs nearly two miles, with towers soaring 60 feet above the town.
Mariefred, is Gripsholm Castle, a well-preserved 16th-century fortress.
Uppsala, is known for its university; for the largest cathedral in Scandinavia; and for its castle that was the setting, in 1654, of the dramatic forced adbication of Queen Christina in favor of CharlesX.