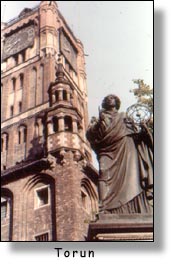 Attractions
Old Town and Royal Route, Warsaw. The historical district includes the Old Town Market Square, Renaissance and Baroque houses of wealthy burghers, splendid Gothic churches and the Royal Castle.
Lazienki Park, Warsaw, is a sprawling palace-park complex, an example of Polish classicism from the second half of the 18th century. Historical sites include the Palace-on-the-Water; Theater-on-the-Island; Orange House and the Chopin Monument, a popular spot for summer recitals.
Palace of Wilanów, Warsaw. Both a museum and a residence for the highest-ranking guests of state. Nearby is the modern pavilion of the Poster Museum, first of its kind in the world.
Market Square, Kraków. Perhaps the largest medieval market square in Europe. Note especially St. Adalbert's Church (11th century), the Gothic Town Hall Tower (14th century) and the Cloth Hall (14Đ16th centuries). Nearby is the Church of the Holy Virgin Mary with a late Gothic masterpiece- the altar triptych carved by Wit Stwosz.
Wawel Castle and Cathedral, Kraków. Overlooking the city from a high, rocky hill, the previous royal seat (royalty ended in the 18th century) houses the Arras tapestries depicting Bible scenes, royal furniture and period interiors. The Royal Treasure House at Wawel holds coronation regalia and royal jewels.
Czartoryski Museum, Kraków. Ancient art and European paintings, including Leonardo da Vinci's Lady with an Ermine
Jasna Gora, Czestochowa. The 14th-century Pauline monastery holds the nation's most important shrine- the icon of the Black Madonna. Pilgrims and visitors pay their respects to the magnificent painting, which is unveiled several times a day. Since 1655, when a powerful Swedish army was turned away, many believe that the Black Madonna can be relied upon to defend Poland in dark days.
Main City and Royal Route, Gdan«sk. The road by which Polish kings entered the port city, including Dluga Street and Dlugi Targ (Long Market). Lines of colorful houses, which once belonged to the wealthy families of Gdan«sk's patriciate, have been rebuilt with care.
Malbork Castle, Gdansk. Also known as Marienburg. One of Europe's largest medieval fortresses, it housed more than 700 Teutonic knights who ruled the lower Vistula in the 14th and 15th centuries. With reconstruction near completion, visitors can tour 20-foot walls, moats and towers.
Something Special
The city of Kraków, the true jewel of Poland, has been named one of the European Cultural Capitals for the year 2000. In celebration, numerous events organized by Kraków 2000 will be held in 1998.
On May 29 is the 35th International Short Film Festival. June will bring the colorful historical pageant, Lajkonic. From Sept. 18 to Oct. 9, visitors can enjoy the Autumn Music Festival by world-renown composer Krzysztof Penderecki. And in December a Christmas Fair accompanied by carol singing and competition for the prettiest Kraków Christmas créche will be held.