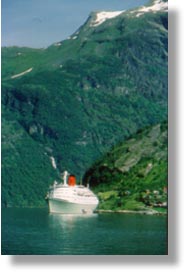 Attractions
Lillehammer. The Olympic venues are open year-round.
Norwegian Folk Museum, Oslo. Some 170 buildings, from all over Norway, reflect the nation's heritage. The distinctive wooden stave church dates from 1200. Period costumes and Lapp exhibitions.
Viking Ship Museum, Oslo. Well-preserved 1,000-year-old longships on view.
Vigeland Sculptures, Oslo. Dramatic outdoor granite, bronze and iron sculptures in sprawling Frogner Park present Adolf Gustav Vigeland's vision of the life cycle.
Old Bergen, Bergen. Open-air museum that depicts the city as it was in the 18th and 19th centuries.
Nidaros Cathedral, Trondheim. Norway's national shrine and Scandinavia's largest medieval building. Rebuilt after being destroyed by fire on several occasions, some 12th-century portions are still standing. The crown jewels are displayed from April through October.
Stave churches, with their dragons' heads and serpent ornaments, rank among Norway's unique attractions. Of the 750 wooden churches built during the Middle Ages, only a few remain.
Something Special
Founded as a center of the fishing industry, Alesund celebrates its 150th anniversary in 1998. Situated on three islands (Geirangerfjord is nearby), the village was destroyed by fire in 1904. It was rebuilt in turn-of-the-century Art Nouveau style and is considered an architectural treasure.