Entertainment, Dining, and Shopping in Norway...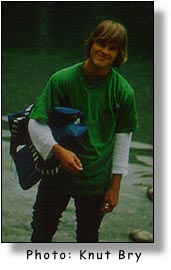 Entertainment
The Oslo Concert Hall is the site for concerts year-round and is the home of the Philharmonic Society Orchestra. The national opera and ballet tour the country during the winter season. Summer concerts are presented at Troldhaugen, composer Edvard Grieg's home in Bergen.
Food & Drink
The sea has long been a storehouse of food for Norway. While herring, cod and coalfish are popular, salmon is the undisputed king. It is prepared in an immense variety of ways; no cold buffet is complete without both gravlax and smoked salmon. Freshwater lakes yield perch, char and trout. Try the latter cooked gently in sour cream.
Flavorful lamb and elk meat inspire chefs to create new Norwegian dishes. Reindeer is the basis of most Sami (or Lapp) dishes, which increasingly appear on menus.
Vegetables, fruit and berries produced in the north have a distinctive flavor, a result of the short, cool growing season. Try the fresh carrots, apples, cloudberries with cream, and mouthwatering strawberries.
Breads and cakes are dear to Norwegian hearts. Everyday pleasures include brittle flatbrød (flatbread), fresh rye or wholemeal bread, lefse (griddlecakes) and waffles with sour cream and jam. Bløtkake (cream layer cakes), kransekake (macaroon wreath cake) and krumkaker (sweet wafer cones baked on a special iron) are some of the delicious choices for festive occasions.
Shopping
Sweaters, with beautiful patterns and color combinations originating in different regions of Norway, top every shopping list. Knitting has long been a tradition hereÑthe oldest piece of preserved knitted material dates to between 1476 and 1525. Other knitwear, such as jackets, hats and mittens, are also good buys, as is pine furniture, popular for its functional, solid design; pewter and silver products; furs; and crystal and porcelain dinnerware.
The art of rosemaling, or rose painting, was a peasant style of decorating furniture and household items which developed long ago in the districts of Hallingdal and Telemark. Today, different styles and designs can be found throughout Norway.