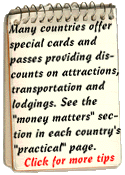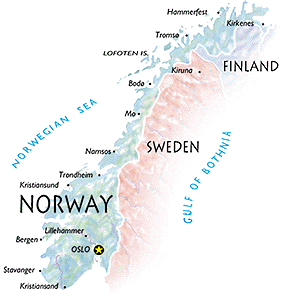 With majestic fjords, mountain plateaus, rushing rivers, midnight sun and arctic splendor, Norway is often called Europe's last wilderness.

Points of Interest
Area: 125,049 square miles (slightly larger than New Mexico). Population: 4,404,000 (Oslo, 488,000; Bergen, 223,000). Language: Norwegian.

Highlights
Oslo, founded in 1050, is the oldest capital in northern Europe and a true Viking city. The main street, Karl Johansgate, leads past shops and hotels, parks and monuments to the Royal Palace. The city is the home of the new Museum of Contemporary Art, the Norwegian National Opera and the National Theatre. Cafe society thrives, and jazz clubs and nightclubs are open late into the night.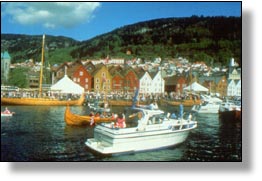 Bergen, the second-largest city, is the starting point for fjord excursions. The center is filled with shops, restaurants and markets, some of which occupy buildings that date to the Hanseatic period of the 16th century. Bergen was the birthplace of Edvard Grieg, whose home has been made into a delightful museum. His compositions are among the highlights of the Bergen International Festival, held annually in late May or early June.
Trondheim was founded 1,000 years ago as the first Viking capital. Here, Leif Ericsson began his voyage to America, and King Olav introduced Christianity. It is an important university city, with many cultural activities.
Lillehammer, site of the 1994 Winter Olympics, is a resort area rich in history and culture, and is known for its wildlife and fauna.
The Lofoten islands, north of the Arctic Circle, feature picturesque fishing hamlets and bird sanctuaries. The Maelstrom, the fierce whirlpool described in stories by Jules Verne and Edgar Allan Poe, is here.
North Cape, the plateau marking the top of Europe, has long been a popular summer destination for cruise ships.