Attractions
National Museum of Art and History, Luxembourg City. Major archaeological finds from the Gallo-Roman period.
Luxembourg Municipal History Museum, Luxembourg City. Glass elevators take you through 2,000 years in this innovative new museum.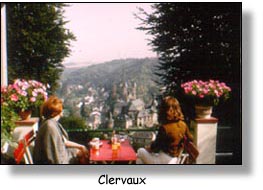 Clervaux Castle, in the heart of the Ardennes, is the permanent home of the restored "Family of Man" photography exhibition (503 photos by 273 artists from 68 countries). The castle's collection also includes several models of Luxembourg fortresses of the Middle Ages.
Natur Musée, Grund. Natural history collections housed in a former women's prison.
Battle of the Bulge museums, Clervaux, Diekirch, Ettelbruck, Wiltz. Exhibits and descriptions of the crucial World War II battle, much of which was fought across Luxembourg. There is a major American cemetery at Hamm where Gen. George Patton is buried, along with thousands of other American soldiers.
Something Special
The annual Dancing Procession in Echternach honors St. Willibrord, who brought Christianity to the region in the 7th century.
Each Whituesday (June 2 in 1998), the bishop of Luxembourg leads hundreds of citizens and pilgrims, dancing slowly to a medieval tune, from the banks of the Sžre to the basilica housing Willibrord's remains. This year's procession also marks Echternach's 1500th anniversary.
Manifesta 2, the second edition of a new European biennial of contempory art, will be held in Luxembourg June 28-Oct. 11.