Attractions
Acropolis, Athens. The rock of the Acropolis has been inhabited since Neolithic times. Today's citadel is the work of Pericles, about 440 B.C. The Parthenon, which dominates the scene, was dedicated to Athena. At the foot of the Acropolis is the Agora, the market-place of Socrates' time.
Poseidon of Artemis, is among the treasures of the National Archaeological Museum, Athens. Also on display are ceramics, sculptures, metalwork, objects of gold and various miniatures from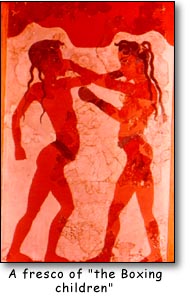 many excavations throughout Greece. Highlights include the Mycenaean collection, circa 1500 to 1100 B.C., and such major statuary as the marble group of Aphrodite and Pan from Delos, and Marathon Boy.
Knossos Archaeological Site, Iraklion, Crete. Knossos was occupied before 3000 B.C. and was the center of Minoan civilization. Legend tells of King Minos and the labyrinth that Daedalus built to house the Minotaur. Objects of pewter, alabaster, gold and silver.
Museum of Byzantine Culture, Thessaloniki. This new museum opened with an exhibit of nearly 600 Byzantine and post-Byzantine religious and historic relics from the monasteries at Mount Athos.
Delphi Museum, Delphi. Near the foot of Mount Parnassus lived the greatest oracle of ancient Greece; her prophecies guided kings.
Olympia. Important archaeological site and where the Olympics originated in the 8th century B.C.
Meteora, near Kalambaka. Byzantine monasteries, 600 years old, were built by ascetic monks atop dizzyingly beautiful formations of rock, some more than 2,000 feet high.
Something Special
In the summer of 1997, Greece opened its first underwater archaeological park in the waters off Methoni, at the tip of the Peloponnese. With guides, divers explore an ancient landscape. For example, close to shore and just four fathoms down are tens of columns believed to have been built in the 1st century by Herodis. Also in the park are shipwrecks dating from ancient times. The nearest city Is Kalamata, from which excursions can be made to Methoni.