Entertainment, Dining, and Shopping in Greece...

Entertainment

Athens' lively nightlife includes rooftop tavernas in colorful Plaka, bouzouki clubs, discos and casinos.

Theater, an integral part of life, is most vivid when performed in the ancient outdoor theaters of Athens and at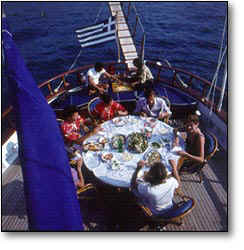 Epidaurus, south of Corinth. Annual events include the Athens Festival (June–Sept.); the Epidaurus Festival (July–Sept.) and the Dora Stratou folk dancing performances in Athens (April–Sept.). Concerts are also held in the new Megaron Mousikis.
Food & Drink
Dine as the Greeks do, in tavernas, on simply prepared fresh seafood or make a meal of mezedakia, modestly referred to as hors d'oeuvres, which may include dolmades (stuffed grape leaves), tyropitaes (cheese pies) and keftedakia (meatballs).
Greece produces a number of excellent wines. Sample them at wine festivals in Athens, Patra (the largest wine region), Thrace and Crete. Ouzo is the national liqueur.
Shopping
Stores generally are open Monday to Friday from 9 a.m. to 5 p.m. and Saturday from 8:30 a.m. to 3:30 p.m. Look for national handicrafts, jewelry, leather goods and fur, flokati rugs made from sheep's wool, pottery, onyx, marble and alabaster. Excellent reproductions of museum pieces are available in the museum shops. The best shops in Athens are around Syntagma and Kolonaki squares and in the Plaka district.