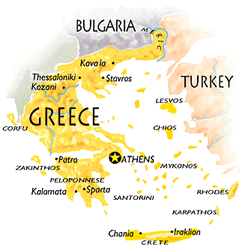 Here gods still stride the heights of Olympus and Parnassus, and Homer's heroes still sail wine-dark seas to island adventures.

Points of Interest
Area: 50,961 square miles (smaller than Alabama). Population: 10,583,000 (Athens, 3,093,000; Thessaloniki, 706,000). Language: Greek.

Highlights
Athens is the wellspring of Western civilization, with such ancient glories as the Parthenon and the Theater of Dionysus, where works of Euripides were first performed. The ancient Odeon of Herod Atticus is the showplace each summer of the Athens Festival. The center of modern Athens is Syntagma (Constitution) Square. Piraeus, the port of Athens, is the embarkation point for the Greek islands and other Mediterranean destinations.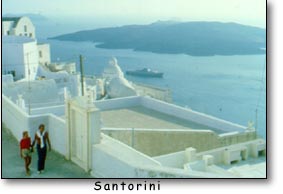 Olympia, on the Peloponnesian peninsula, is the origin of the Olympic Games, first held there in 776 B.C. In 2004, the Games return, this time to Athens. The ruins of Mycenae, 600 years old when the Parthenon was built, emerge from the landscape. Sparta once was the mightiest of the city-states. In Corinth, the ruins of the Agora and the Temple of Apollo are still visible.
Thessaloniki, the second-largest city, has the White Tower, the green-domed Aghia Sophia church (8th century) and an exceptional new Byzantine museum. The Archaeological Museum displays riches of Macedonian kings drawn from excavations at nearby Pella, Vergina, and the sacred city of Dion.
Crete was home to Europe's 3000 B.C. Minoan civilization, whose traces are displayed at the Palace of Knossos.
Rhodes, largest of the Dodecanese isles, resounds with Crusader derring-do. The Knights of St. John (1309) built the impressive castle. Nearby is Lindos, graced by an 11th-century B.C. Dorian citadel on a magnificent acropolis. Rhodes is famous for fine sand beaches, excellent hotels and night life. Crete and Rhodes both are ideal year-round.
Mykonos, in the Cyclades, has some of Greece's best beaches, an adventurous night life and a cosmopolitan flair.
Santorini is a dramatic experience with volcanic-ash beaches and a star-shaped crater. At Akrotiri archaeologists in 1967 dug up the remains of a Bronze Age city, astonishingly intact despite the devastating volcanic explosion that took place around 1500 B.C.