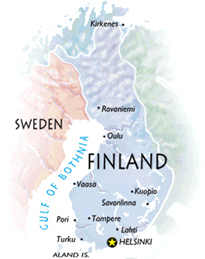 From architecturally advanced Helsinki in the south to rugged Lapland in the north, visitors discover scenic beauty and a nation of friendly people whose thoroughly contemporary culture retains a deep reverence for its rich heritage.

Points of Interest
Area: 130,119 square miles (three times the size of Ohio). Population: 5,109,000 (Helsinki, 525,000; Espoo, 191,000). Languages: Finnish and Swedish; English is widely spoken.

Highlights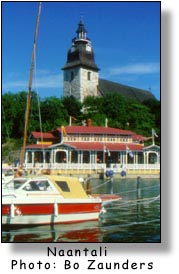 Helsinki is known as "the Daughter of the Baltic." Favorite activities for visitors include exploring the Market Square and taking a boat trip around the harbor. Distinctive structures include the Rock Church, carved out of solid rock; the Sibelius Monument, made of steel pipes; and the lineup of neo-classic buildings around Senate Square.
The King's Road - dating to the 13th century - can be followed along the southern coast. It was once the only viable link between the Scandinavian capitals and Russia.
On the King's Road, east of Helsinki, is Porvoo, Finland's second-oldest town (founded 1346), for a look at what a small town was like a century ago. Nearby Loviisa (which dates back 250 years) was built as a fortress town. Charming houses, quaint cafes and restaurants line its narrow streets. Farther east is the town of Kotka, known for its Orthodox church and for the Langinkoski Imperial Fishing Lodge, and Hamina, with its unique circular town plan.
Along the King's Road, west of Helsinki, is the Old Sotunki Village in Vantaa, the peaceful Finnish countryside as it existed in the 18th and 19th centuries; Espoo, home of the Glims Farmstead Museum and the Akseli Gallen-Kallela Museum, dedicated to Finland's most famous painter; "Hvittrask,Ó the shared home and studio of three famous Finnish architects in Kirkkonummi; the ironworks villages of Billnas and Fiskars; and the Mustio Manor Museum.
Tammisaari is a summer resort with much 17th- and 18th-century architecture, wide sandy beaches and a festive summer market. Farther west is Finland's southernmost point, the cape town of Hanko, with 14 miles of beach within city limits.
Turku is a 750-year-old city that was the capital until 1812. Its castle, which overlooks the harbor and houses the historical museum, is right out of a Viking saga. The Gothic cathedral is one of the major medieval structures in Finland. Nearby Naantali, one of the oldest Finnish towns, is now a summer resort of brightly colored wooden houses.
Rovaniemi, gateway to Lapland, is only a short flight from Helsinki, but the lifestyles of the residents are poles apart. Visitors send home souvenir postcards attesting to their journey north of the Arctic Circle.