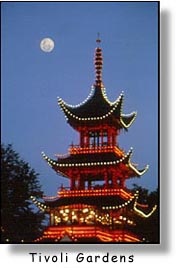 Attractions
Amalienborg Museum, Copenhagen. Some of the official and private rooms in Amalienborg Palace, the residence of Queen Margrethe II, are now permanently open to the public. The rooms, restored to the period of 1863-1947, belonged to members of the reigning Glucksborg family, who first ascended the throne in 1863.
National Museum, Copenhagen. A new wing accommodates the outstanding collection of 20th-century art. Exhibits trace Denmark's development from prehistoric times to about 1680. Danish paintings and sculptures, and collections of European paintings are displayed. The museum also has a restaurant, a cinema and a shop.
Ny Carlsberg Glyptotek, Copenhagen. A new wing houses the museum's extraordinary Impressionist collection, which includes 35 Gauguins. Greek and Roman art as well as 19th-century French and Danish works are exhibited. Features a splendid winter garden.
Louisiana Museum of Modern Art, Humlebæk. The most-visited museum in Denmark, it features works by Calder, Warhol and other artists.
Frederiksborg Castle, Hillerød. A national history museum in an imposing Renaissance building surrounded by a moat. A magnificent Baroque garden, complete with waterfalls and basins, has been re-created as it was in 1721. Summer concerts are performed in the chapel.
Karen Blixen Home, Rungstedlund. The home of the author of Out of AfricaÑwhose pen name was Isak DinesenÑhas changed little since her death 36 years ago. Featured are the memorabilia she collected over two decades in Africa.
Legoland Park, Billund. Large-size replicas of such American attractions as the Statue of Liberty, Mount Rushmore and the Capitol, all built with Lego bricks.
Tivoli Gardens, Copenhagen. One of the world's best known amusement parks. Some of Copenhagen's finest musicians received their training in the Guard, which is comprised of 110 boys, ages nine to 16. Now also open during the Christmas season.