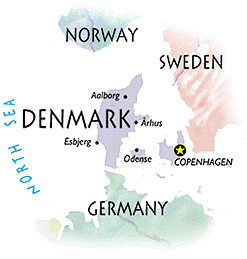 A kingdom between the Baltic and North seas for more than 1,000 years, Denmark and its many ports are worth a call. The Jutland peninsula divides Skagerrak and Kattegat straits; numerous islands make up the rest of the country.

Points of Interest
Area: 16,631 square miles (half the size of Maine); this excludes autonomous Greenland, equal to Alaska and Texas combined. Population: 5,100,000 (Copenhagen, 1,360,000; Århus, 198,000). Language: Danish.

Highlights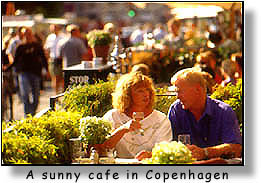 Copenhagen is on the island of Sealand (Sj¾lland). Its pleasures include strolling along the mile-long Str¿get pedestrian shopping street and passing the time at one of the city's many cafes. Visit the National Museum across from Christianborg Palace; the Ny Carlsberg Glyptotek with its new wing, an architectural wonder; and the Rosenborg Palace, where a dazzling collection of crown jewels and regalia is on display, including the world-famous silver lions. On the waterfront, the Little Mermaid offers serene welcome, as does a new promenade with exclusive shops, a delight for the portÕs many cruise passengers.
Roskilde, known as DenmarkÕs first capital, is just a 15-minute ride on the fast train from todayÕs capital. In 1998, the city celebrates its millennium with a stellar lineup of events from medieval plays to the largest annual rock festival in Europe. On permanent display in the Viking Ship Museum are five vessels sunk in the fjord more than 1,000 years ago.
Odense, on the garden island of Funen, is the native city of storyteller Hans Christian Andersen. It will be just a two-hour weekend drive from Copenhagen when the new bridge between the islands is inaugurated during the summer of 1998. Note: Visitors can stay in manor houses and castles here.
Århus is an important university town, and now only three hours from Copenhagen by train via the new Store B¾lt crossing. Visit the Old Town and open-air museum with 60 original, furnished houses dating to the 17th and 18th centuries. Stroll through the Scandinavian Center with restaurants, shops, theaters.
Aalborg, in northern Jutland, has been named Europe's cleanest city. Made up of crooked medieval lanes and historic buildings, Aalborg is famous for its seafood and Danish aquavit. Tour the Viking settlements in nearby Lindholm Høje.
The Viking Ship Museum contains five vessels which were purposely sunk in the fjord 1,000 years ago to block enemy ships.