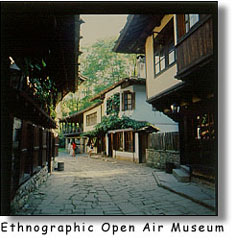 Attractions
Rila Monastery (10th century), 70 miles south of Sofia. In a spectacular mountain setting, it is guarded by stone gates and has sunlit verandas.
Thracian gold at the National History Museum, Sofia. The Panagjurishte collection of ornaments includes the world's oldest gold dinnerware and jewelry (4600 B.C.}.
Bachkovo Monastery, near Plovdiv. Founded in 1083, it contains 11th-century murals. Nearby are the Archangel St. Michael Church (12th century) and the Church of the Holy Virgin (17th century).
Something Special
Bulgaria supplies 80 percent of the rose oil for the world's perfume industries from the 75-mile Valley of Roses, an enormous natural garden, at the foot of the impressive Balkan mountains. Budding takes place between the end of May and mid-June. The colorful age-old Festival of Roses, centered on Kazanlu¨k, is held on the first weekend in June. Thousands witness the parade of flowers, and the coronation of the rose queen, and enjoy entertainment of every description. Special tours are offered.