Entertainment, Dining, and Shopping in Bulgaria...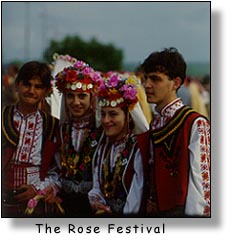 Entertainment
Bulgaria is known for its well-preserved folk customs. Have dinner at a folk tavern with live song and dance, and sample the acclaimed local wine. The country's opera and ballet are famous.
Food & Drink
The cuisine is basically simple but well prepared. It is chiefly distinguished for imaginative meat dishes - lamb, pork, beef - and for its use of yogurt in cooking. Yogurt was first made in Bulgaria.
The red wines of Bulgaria are famous throughout Europe.
Shopping
Explore the boutiques on the winding cobblestone streets and you will find chic clothing, antiques, icons, leather goods, jewelry, musical instruments and peasant needlecrafts.