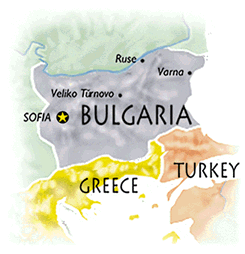 This is Old Europe, with twisty cobblestone streets and tile-roofed houses, a Roman amphitheater here, a Crusaders' bastion there, and medieval monasteries amid farms and modern cities.


Points of Interest
Area: 42,823 square miles (the size of Tennessee). Population: 8,653,000 (Plovdiv, 1,220,000; Sofia, 1,115,000). Language: Bulgarian
Highlights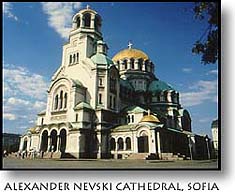 Sofia has been likened to Paris because of its broad boulevards, open-air cafes, large parks, upscale shopping and grand buildings. The 5,000-year-old capital is situated at the foot of Mount Vitosha. Sveti Georgi Church, which dates back 1,600 years, and the crypt in the Alexander Nevski Cathedral, are important sites. St. Sofia (6th century) is the city's most famous church.
Plovdiv is 1,000 years older than Sofia and the second-largest city. Visitors can discover 4th-century B.C. Thracian wall paintings, the Roman amphitheater, Byzantine and medieval fortifications and 15th-century Ottoman mosques.
Veliko Tūrnovo was the capital of the Second Bulgarian Kingdom (1185-1396). Built on two steep hills above the Yantra river, a fortress gate provides the only access to the summit. Frescoes adorn the massive walls and towers. Here also are the medieval district of Asenov; the tower of Baldwin of Flanders, a famous Crusader; and the 14th-century Preo-brazensky Monastery.
Koprivshtitsa is a museum town with the atmosphere of the National Revival Period (18thŠ19th centuries) preserved.
Nesebūr, one of the oldest settlements in the Balkans, is situated on a rocky Black Sea peninsula. It has handsome villas and some 40 churches.
Black Sea resorts run along 130 miles of coastline and include Albena, Golden Sands, Drouzhba and Sunny Beach.