---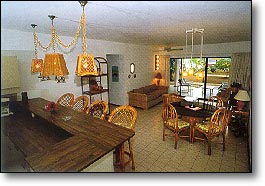 Rooms and Amenities
Every one of the Sand Dollar's 85 cool seaside apartments has an ocean view from a large private balcony or terrace, air-conditioned bedrooms (each with its own bathroom), a fully equipped kitchen, a spacious living and dining area with cable television and modern tropical decor. Sand Dollar is perfect for families, couples or groups and features a large freshwater pool and deck, poolside bar, tennis courts, store, ice-cream shop, bank, travel agency and rental car offices on property. Located right on the calm, clear, Caribbean sea, Sand Dollar is the perfect place to relax and enjoy scuba diving, windsurfing, snorkeling, and more. Food and drink are conveniently available at Sand Dollar's on-site grocery store (part of the resort's small shopping mall), and a range of meal plans are available from The Green Parrot Restaurant.
---
Rates
Daily rates, in U.S. dollars, are as follows:
Room Type
Winter
(12/16/99-04/14/00)
Spring, Summer, Fall
(4/15/98-12/15/99)
Max. Occupancy
(Adult/Child)
Studio
$180
$155
2/2
1 Bedroom
230
180
2/2
2 Bedroom
270
200
4/2
3 Bedroom
370
310
6/2
All rates are subject change without notice. All rates are quoted in US$ Dollars. Rates are subject to a 10% service charge and US$6.50 per person per night room tax and T.I.L (Tourism Improvement Levy as of December 15, 1996). Children 12 and under, sharing the same unit with their parents, stay for free (maximum of 2 persons). Extra bed is US$20.00 per night (bed is collapsible roll-away bed). Baby crib based on availability. Subject to change.
---
Sand Dollar Overview | Dining Facilities & The Green Parrot Restaurant Diving at Sand Dollar | Special Packages | Bonaire Accommodations

---
Sand Dollar Reservations
P.O. Box 3253
Longwood, FL 32779
(800) 288-4773 or (407) 774-9292; fax (407) 774-9322
Sand Dollar Condominium Resort
P.O. Box 262
Bonaire
Netherlands Antilles
(011) 599-7-8738; fax (011) 599-7-8760
Sand Dollar Dive and Photo(011) 599-7-5252
email: sanddollar@bonairenet.com
---
Copyright (c) 1995-1996 interKnowledge Corp. All rights reserved.