Click on images below to learn more!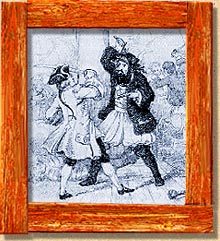 A risk-taker to the end, Blackbeard ignored the warnings of his compatriots and allowed the British ship, Pearl, to trap his vessel in a sandbar. After toasting the British commander with a mug of rum, Blackbeard declared that he would take no quarter and be damned if he gave any. In the hand-to-hand fight that followed, he received "5 pistol balls and 20 cutlass wounds" before he fell. The British commander, Lieutenant Robert Maynard, beheaded Blackbeard and displayed his glowering head on the tip of the Pearl's bowsprit (the foremost point of a sailing ship).
Charles Vane was also apprehended, in a much quieter manner. After becoming shipwrecked, he was picked up by a vessel whose crew knew nothing of his exploits. That ship in turn was met by a British frigate whose captain, upon spotting the infamous Vane, arrested him posthaste. Taken to Kingston, Jamaica, Vane was tried, convicted and hanged for piracy.
Nor did any of the other eight pirates escape the determined Governor Rogers. They were hanged from gallows standing on what is now the British Colonial's west beach. Having cleaned up the port city, Woodes Rogers moved into Fort Nassau and lived there until his death a few years later from "mysterious causes."