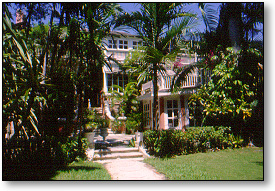 I n the middle of the 18th century Nassau was no place for the faint of heart--the baffling archipelago of the Bahamas was a favored safe haven for pirates and smugglers, and Nassau was their main port. Among the more successful buccaneers was Captain John Howard Graysmith, fearsome captain of the schooner Graywolf and scourge of the Spanish Main. Having prospered in his calling, Captain Graysmith decided to build a gracious mansion for himself. He called it Graycliff.
Nassau's buccanneers came and went, and by the middle of the 19th century Graycliff had become Nassau's first inn, providing board and lodging "by day, week or month. " It seems likely that the inn prospered, as its 1844 advertisement noted plainly enough that "the house is located at one of the pleasantest and most healthy situations of the town." That is still true today, although it is certain that Graycliff itself now far exceeds anything imagined by its first hoteliers.
The mansion's first hints of glamour came in the 1920s, when it was owned and operated by Miss Polly Leach, an intimate companion of the notorious Al Capone. Prohibition was in force in the States, and it seems quite likely that many of the most celebrated figures of the Roaring Twenties enjoyed the rather less constrained hospitality at Graycliff. The mansion became a private residence once more in the following decades, and in the mid-1960s it was purchased by Lord and Lady Dudley, Third Earl of Staffordshire. Over the next ten years Graycliff welcomed some of the most eminent peers of the realm, including Sir Winston Churchill--who favored the poolside cottage during his visits. In 1974, Graycliff passed to the ownership of Enrico Garzaroli, who has with his wife Anna Marie transformed this landmark of Bahamian history into one of the world's most eminent destinations.
West Hill Street Nassau, Bahamas
(809) 322-2796/7
Reservation
(809) 326-6110
Fax